"What's the difference between Heavyweight Cutlery

and Mediumweight Cutlery

?
The difference is rather easy to explain:
· Heavy Weight: These plastic utensils have a greater density and strength. This makes them feel heavier, therefore giving your customers a greater sense of quality and value. Since Heavy Weight Cutlery is denser (usually made from Polystyrene), it is also ideal for tougher and heavier foods, such as meats and pastas. It portays a much higher image to the customer.

· Medium Weight: This Cutlery in contrast (usually made from Polypropylene) has a lighter density than its heavy weight counterpart. Since they don't have quite as weighty a feel, they won't necessarily convey that same sense of quality to your guests. However, since they have a lighter density, Medium Weight is a more cost effective choice.
Medium Weight Cutlery can be used for most food items simply that they are not so appealing as the heavyweights.

· Light Weight Cutlery: Usually 5" long are used for coffees or very easy pick and eat items such as diced fruits, salads or custards and soft ice cream.
How do I know which CUTLERY I want to choose?
When trying to decide what CUTLERY would be the best for your establishment, take into consideration what feeling and atmosphere you would like to convey to your customers, as well as the different kinds of food that your menu is comprised of.
What are JUMBO and GIANT straw sizes?

SHOULD I OPEN AN ACCOUNT?
An account is not necessary for any type of online orders, customized orders or full trailer orders. However, opening up an account has several benefits for online orders, including your saved information for shipping and ordering. Your information is guaranteed to be safe and secure. The account also sends a newsletter along with seasonl promotions and new products from time to time. Along with the following:
Check out faster

Save multiple shipping addresses

Access your order history

Track new orders

Save items to your wish list

Customer Loyalty Program that gives $1 for every 100 Points (Each Point = $1 Purchased)
HOW SHOULD I OPEN AN ACCOUNT?
An account is fast and simple to set up. There are two ways:
a) You can click on the My Account button on the top of the site. This will immediately take you to the sign up area. If you already have an account, then all you need to do is enter your username and password for immediate Access. If you are creating an account, then you can click on the CREATE ACCOUNT button.
This will take you to a page where you can add your personal detail and shipping details. Then Click CREATE MY ACCOUNT at the bottom of the page. That is it, you have created your account and made your ordering process quick and easy everytime.
b) While shopping, you can go to your shopping cart area and when you are ready to finish your online order, select the PROCEED TO CHECKOUT button. This will give you the option to "proceed as a guest" or ""register an account". By selecting the register an account, you will find a page that allows for your personal details and shipping details. Then click CREATE MY ACCOUNT at the bottom of the page and you are done. Congratulations, you have created your own personal account and will recieve all the benefits for online orders.

c) Our Customer Loyalty program should reflect automatically when it comes to earning Reward Points. Simply create an account, make your purchases and you will see them reflected in the "Rewards" icon on the bottom left corner of the website. Keep earning cause the points add up with our 100 Point = $1 system (shipping not included). Your business matters to us.
What is Polypropylene (PP) & Polystyrene (PS)?
PP = POLYPROPYLENE PLASTIC - STIFF AND WILL NOT BREAK (GOOD FOR KIDS).
PS = POLYSTYRENE PLASTIC - STONGER, VERY CRISTAL LOOKING BUT WILL SNAP OR BREAK (NOT RECCOMENDED FOR KIDS).
Should our PET food containers be used in a microwave oven?

No. These should not be placed in the microwave. However, they can handle hot and cold foods.
¿What does "GRA certified" mean?
Wow Plastics' Cake Domes, Clam Shells, Round Containers, Nacho Trays, and Salad Bowls are made with 100% post-consumer plastic and meet the Green Restaurant Association's rigorous product certification standards. These products have been vetted for their environmental accuracy and can earn a restaurant 2.5 GreenPoints™ towards becoming a Certified Green Restaurant®.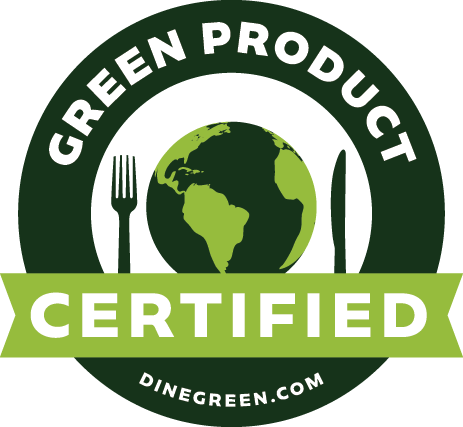 The Green Restaurant Association is a national non-profit organization that provides the only official Certified Green Restaurants® mark in the country. For 28 years, the GRA has pioneered the Green Restaurant® movement and has been the leading voice within the industry encouraging restaurants to listen to consumer demand and green their operations using transparent, science-based certification standards. With their turnkey certification system, the GRA has made it easy for thousands of restaurants to become more environmentally sustainable in a profitable manner. The GRA has been featured on CNN, NBC Nightly News, NPR, and in The New York Times, and The Washington Post.
For more information visit http://www.dinegreen.com.